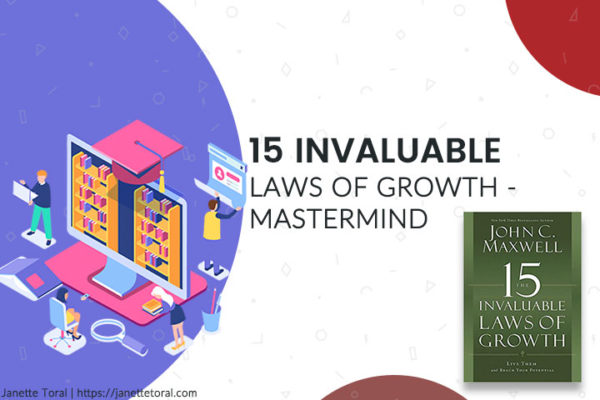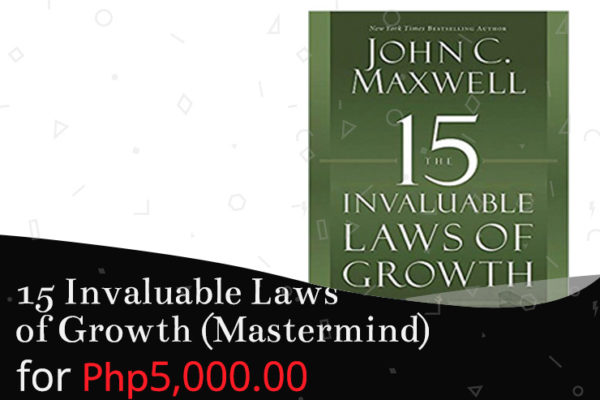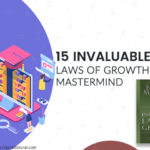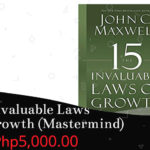 15 Invaluable Laws of Growth (Mastermind)
₱5,000.00
Description
Tried and true principles that are always certain to help a person GROW.
Potential is one of the most powerful words in any language. A person potential implies possibilities, it heralds hope, and it unveils greatness. In The 15 Invaluable Laws of Growth: Live Them and Reach Your Potential, John Maxwell shares the core of what he has learned about developing yourself so that you have the best chance of becoming the person you were created to be.
In these 6 sessions online mastermind, we will discuss the path towards attaining personal growth:
The Law of Intentionality – Growth doesn't just happen

The Law of Awareness – You must know yourself to grow yourself

The Law of the Mirror – You must see the value in yourself to add value in yourself

The Law of Reflection – Learning to pause allows growth to catch up with you.

The Law of Consistency – Motivation gets you going – discipline keeps you growing

The Law of Environment – Growth thrives in conducive surroundings

The Law of Design – To maximize growth, develop strategies

The Law of Pain – Good management of bad experiences leads to great growth

The Law of the Ladder – Character growth determines the height of your personal growth

The Law of the Rubber Band – Growth stops when you lose the tension between where you are and where you could be

The Law of Trade-Offs – You have to give up to grow up.

The Law of Curiosity – Growth is stimulated by asking Why?

The Law of Modeling – It's hard to improve when you have no one but yourself to follow

The Law of Expansion – Growth always increases your capacity.

The Law of Contribution – Growing yourself enables you to grow others.
Those who will be able to complete the mastermind will get an e-certificate.
(Participants need to have a copy of the book. Get a copy from your local bookstore or via Kindle at https://amzn.to/2UxlUeB or download a free audiobook through Audible trial at http://bit.ly/audibleread)
---
Only logged in customers who have purchased this product may leave a review.