From 2003 to 2006, I ventured into online research with the DigitalFilpino StatsReport series and published reports covering Filipino (local/OFW) online shopping, Internet and mobile usage habits, e-banking, online games. We also had industry reports covering the outsourcing industry, services exports, I.T. manpower, among others.
The above was presented in various international forums. However, from 2008 to 2012, we had a predicament as Philippine e-commerce volume then was only pegged at around 1 to 3 billion pesos. Usually gauged by B2C transactions only.
This figure has hurt the sector in terms of attracting investment, especially to our startup community.
As business decision makers plan to venture into e-commerce, due diligence is necessary requiring various data sources to serve as input, identify opportunities, and evaluate changing trends.
E-Commerce is much more than B2C especially with the B2B, G2B, G2C, and C2C activities. Hence, my talks began with Dr. Nick Fontanilla discussing these concerns and later pave the way for the founding of i-Metrics Asia-Pacific Corporation.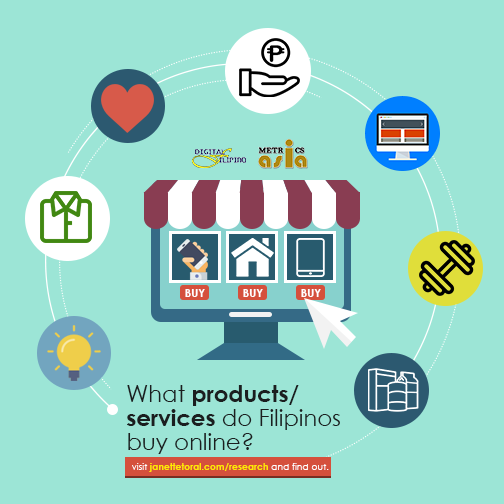 We need a reliable source of organized e-commerce metrics updated at the current month at the time of use. Detailed enough to cover the supply and demand side.

This gave birth to the Philippines E-Commerce Index in 2013. To be efficient in data gathering, survey questions were asked monthly alongside the Purchasing Managers Index.

We only got respondents from the Top 10,000 corporation so we can be precise and methodical in estimating e-commerce volume and its impact on the country's gross domestic product (GDP).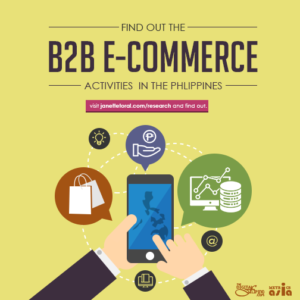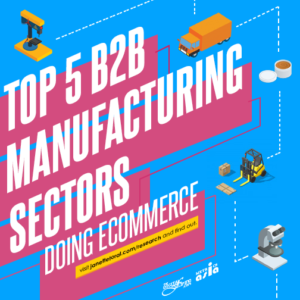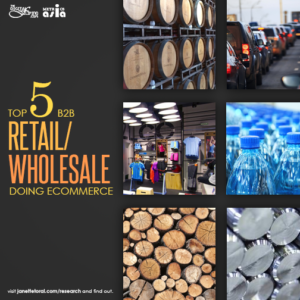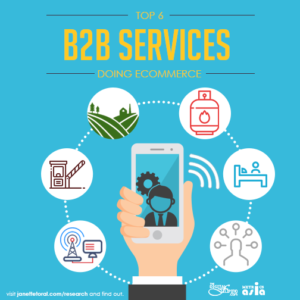 Tracking Philippines E-Commerce Intensity
E-commerce Intensity is the volume of e-commerce transactions measured in pesos or count or as an index. Several countries measure e-commerce intensity as a percentage of GDP using a tracking methodology that estimates total business transacted through the internet.  
E-commerce tracking/ measurement is used by industry and government in various ways.
A high e-commerce contribution to GDP is expected to increase productivity, improve the supply chain, and create tremendous opportunities for growth for government and industry.
E-Commerce as Engine for Growth
E-commerce volume was estimated at $2.9 trillion in 2009 representing 2.9% of global GDP (Boston Consulting Group/Economic Intelligence Unit). It is estimated to grow to $4.2 trillion by 2016 representing 5.3% of global GDP with just a few countries dominating.
Among the recommendations presented by consulting groups and analysts to grow the e-commerce market are as follows:
Essentially private-led.

The Government should avoid undue restrictions on e-commerce.

Government's role is to support and partner with private sector initiatives.

Government and private sector should recognize the power and strategic significance of the internet and e-commerce that flows out of it.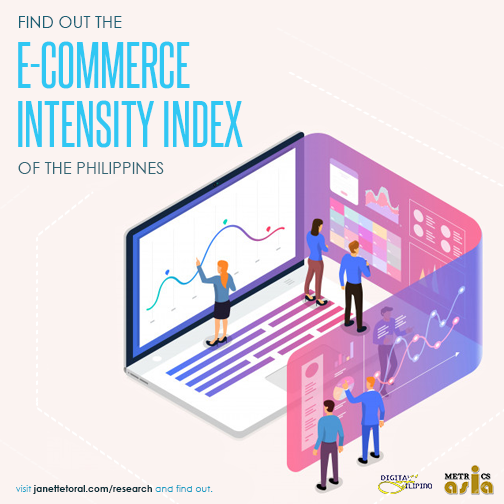 The Philippines, while limited in internet penetration, has one of the highest if not the highest internet usage intensity. That is, internet users spend more time on the internet space more than their counterpart users in other countries.
Facebook statistics indicate that the Filipinos spend more time per capita using Facebook than any other nationalities. Before China started its e-commerce initiative, the Philippines was the SMS capital in the world.
Measuring E-Commerce Intensity
There had been initiatives in the past to establish baseline data on e-commerce intensity. The results were discouraging and were not reflective of real e-commerce activity.
As a result, migration from top-of-the-line communication systems to e-commerce methodologies has been very slow. Intervention by the government has also been very conservative in the absence of such data.
The information gap has been due in part to a strong lobby and support for data privacy which limited data sharing and data analysis. It was also due in part to the lack of private research initiatives in developing a robust methodology for measuring and tracking e-commerce intensity.
A study done by a multinational research company showed an internet volume of only P5.0 billion. The study used a demand-side analysis. Meanwhile, airlines and hotels have been doing business that is close to P100 billion.
A demand-side analysis is at best indicative. It may not stand alone. For one, parameters for generating a representative sample of the total population have yet to be established. Second, the users of the internet in the Philippines are skewed towards a certain segment. Third, usage and the supporting infrastructure for usage are not well defined.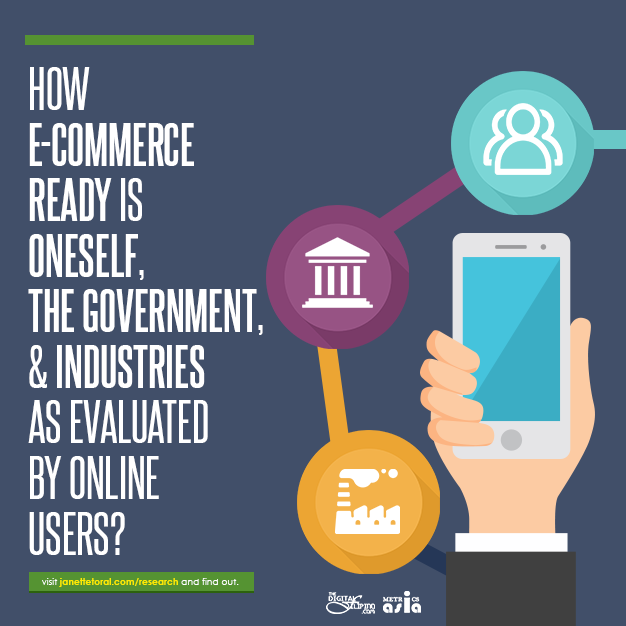 Given what we have and the various initiatives to estimate e-commerce volume, there appears to be a need to create a more suitable approach for defining e-commerce intensity in the Philippines – one that recognizes the peculiarities in the Philippine market, and, at the same time, recognizes scientific procedures for estimating market size.  
Paired Analysis
Month on month, a report is presented to industry using the results derived from the supply side and demand side estimation. I- MetricsAsia analysts use standard statistical procedures to generate weighted means and proportions.
Get a monthly or annual subscription of the Philippine E-Commerce Index Report
Philippines E-Commerce Index by I-MetricsAsia and Digital Filipino
Open for Partnership
I-MetricsAsia is seeking partnership with an agency or a corporate sponsor who can help fund or find sources of fund for this tracking and measurement initiatives to ensure the availability of the results month on month and year on year. Contact Janette Toral for preliminary discussion.