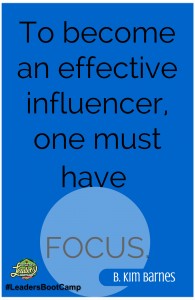 B. Kim Barnes, author of the book "Exercising Influence," said that to become an effective influencer, one must have FOCUS.
Flexible

Be open to alternative means for as long as the outcome goal shall be achieved.
For example, this may include working with other groups, foster shared ownership, in order to achieve the goal.

Observable

Design in a way that you can see whether you are nearly achieving the goal or not, then adjust.
Have a clear target that you can control like achieving a revenue target or target number of members.

Courageous

It must be optimistic, with a degree of success or failure risk, to make the effort worthwhile.
Be ambitious in order to make it worthwhile, whether you succeed or fail.

Useful

Achieve longer term important results, not short term ego needs.

Supportive

Influence activities must be aligned with big picture goals.